One of the most important miniature paintings of the Jacobean age has been purchased for the nation thanks to a funding partnership between the National Heritage Memorial Fund (NHMF), Art Fund and the National Trust. 
Image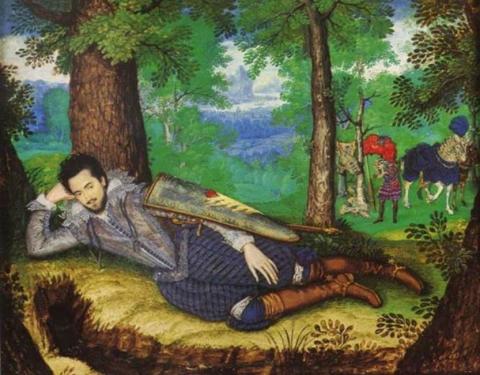 National Trust
The miniature portrait of Edward Herbert, 1st Baron Herbert of Cherbury by Isaac Oliver has been on display as one of the star items in the collection at its historic home, Powis Castle, near Welshpool, which is cared for by the National Trust.
This magnificent miniature shows Herbert as the fashionable, romantic, melancholic young lover, his head resting on his hand, as he lies stretched out along the banks of a stream running through a shady forest. His shield bears the inscription Magia Sympathiae and a burning heart. Lord Herbert's own life reflected this image of the knightly romantic.
Having been offered for sale by the London Fine Art agents, Omnia Art Ltd, on behalf of a private owner, the painting has been secured in perpetuity for Wales and the nation thanks to generous grants and donations. It has been bought by the National Trust for £2.1million with funds including £1.5m from NHMF, £300,000 from the Art Fund, and other donations.
The painting is a cabinet miniature portrait of Edward, Lord Herbert of Cherbury (1583 – 1648), famed poet, socialite, philosopher and statesman. He lived at Montgomery Castle and was first cousin of Sir William Herbert, 1st Lord Powis.
It was painted between c.1602-1617, by Isaac Oliver, the royal miniaturist, and pupil of Nicholas Hilliard. It is 230mm x 189mm, watercolour on vellum, mounted on oak board, in a contemporary 17th-century tortoiseshell and ebony frame.
Justin Albert, National Trust Director for Wales, said: "We are so proud and honoured to be involved in the partnership that has brought about such an exceptional acquisition that is so important for Welsh, British and indeed European heritage.
"We are greatly indebted to those organisations and individuals whose generous donations have enabled us to purchase this incredible painting and keep it in the collection at Powis.
"Powis Castle already offers our visitors the chance to enjoy one of the finest collections of European and South Asian artefacts managed by the National Trust and we are sure they will be glad that the painting is to stay at its historic home.
"But as a conservation charity we aim to look after special objects for ever and for everyone to enjoy and this painting is fragile and in need of some careful conservation work. So, before it returns to its historic home we will carry out some essential work.
"Once that is complete we hope to be able to share this painting more widely in other locations. We feel this is one way of saying thank you to all those who have helped secure the future residence of this magnificent work of art in Wales and the UK."
Fiona Talbott, Head of NHMF, said: "This is an exquisite miniature which belongs in its original context of Powis Castle. There's no doubt it's also a star of the Powis collection, standing out for both its artistry and the colourful story it tells of Elizabethan and Jacobean court culture.
"The National Heritage Memorial Fund was set up to secure the future of heritage treasures. Thanks to it and other funders as well as the National Trust's expert custodianship, the Lord Herbert of Cherbury miniature will be conserved and fully researched before going back on public display." Sarah Philp, Director of Programmes, Art Fund said: "We are very happy to have been able to support this extraordinary miniature of an extraordinary man, which constructs a fascinating vision of courtly life in Renaissance England. It is one of the undisputed gems of the National Trust and belongs at Powis Castle, for everyone to see and enjoy."
Charles FitzRoy of Omnia Art Ltd said: "The figure of Lord Herbert, with its connotations of chivalry and romance, possesses a poetic lyricism that places it at the pinnacle of Jacobean art."
The painting will undergo conservation over the next few months. The Trust is in discussion with other organisations and museums about the possibility of loans of the artwork before it returns to Powis Castle.
Notes to editors
About Isaac Oliver
Isaac Oliver (c.1565-October 1617) or Olivier, was a French-born English portrait miniature painter. Born in Rouen, he moved to London in 1568. He studied miniature painting under Nicholas Hilliard and developed a naturalistic style, which was largely influenced by Italian and Flemish art.
After the death of Elizabeth I, he became a painter of James I's court, painting numerous portraits of the Queen Anne of Denmark and Henry Frederick, Prince of Wales. Some of his work is housed in Windsor Castle. Some of his pen drawings are located in the British Museum.
About Lord Herbert of Cherbury miniature at Powis
The miniature has been on display in the Library, and a major attraction at the Castle, being a hugely high profile object, as well as being extremely visually appealing and portraying one of the great characters in the story of Powis. The miniature has been out on loan and featured in a number of exhibitions over the years, most recently at the British Museum and the V&A, highlighting its status and international appeal, and cementing the significance of the Powis Collection. The British Museum loan also led to further research on the object.
About Edward Herbert and Powis Castle
Edward Herbert was one of the most famous men of his day. He was first cousin to Sir William Herbert, 1st Lord Powis, and the family was reconnected by marriage four generations later. Edward was also the first Welshman to be portrayed in a bronze bust, by Le Sueur, the great sculptor of his day. The bronze is co-owned by the National Trust and the National Museum of Wales and sits in the Library at Powis, next to where the miniature has thus far been displayed, aptly surrounded by fine books. Edward was a noted bibliophile.
About Powis Castle collection today
The Powis Collection is one of the finest collections of European and South Asian artefacts managed by the National Trust. Powis is rightly termed a 'Treasure House'. The collection is, like the other elements of Powis, of the highest quality, characterised by its excellent pictures, sumptuous textiles, finest mediaeval tapestries, C17th, C18th and C19th cut velvets and silks, fine furniture and classical sculpture.
About Powis Castle
Powis Castle began life as the medieval fortress of the Welsh princes of Powys, who held onto their kingdom despite the threats of their more powerful neighbours in Gwynedd and England. In 1587, Powis was sold to Sir Edward Herbert who created the romantic long gallery which is richly decorated with the coats of arms of his ancestors.
In 1784, the marriage of Lady Henrietta Herbert and Edward Clive, son of Robert Clive, the conqueror of India, combined the Powis and Clive estates. George Herbert, great-grandson of Edward Clive (Clive of India), inherited the title of 4th Earl of Powis (3rd creation) along with the castle and estate in 1891. Together he and his wife, Violet, focused on remodelling the castle and garden.
In the Edwardian period the estate was at its height, and important guests arrived every weekend throughout the winter season including, in November 1909, the Prince and Princess of Wales.
However, this golden era was not to last and sadly, George suffered three family tragedies.
In 1916 his elder son, Percy, was fatally wounded on the Somme; in 1929 Violet died after a car accident and in 1942, his younger son, Mervyn was killed in an aeroplane crash during active service.
With no direct heir to the castle, on his death bed in 1952 George bequeathed Powis to the nation, in the care of the National Trust.
About the National Trust
The National Trust is a conservation charity founded in 1895 by three people who saw the importance of our nation's heritage and open spaces, and wanted to preserve them for everyone to enjoy. More than 120 years later, these values are still at the heart of everything the charity does.
Entirely independent of Government, the National Trust looks after more than 250,000 hectares of countryside, 775 miles of coastline and hundreds of special places across England, Wales and Northern Ireland.
More than 20m people visit every year, and together with 4.5m members and over 62,000 volunteers, they help to support the charity in its work to care for special places forever, for everyone.
For more information and ideas for great seasonal days out go to: www.nationaltrust.org.uk.
About Art Fund
Art Fund is the national fundraising charity for art. In the past five years alone Art Fund has given £34m to help museums and galleries acquire works of art for their collections. It also helps museums share their collections with wider audiences by supporting a range of tours and exhibitions, including ARTIST ROOMS and the 2013-18 Aspire tour of Tate's Salisbury Cathedral from the Meadows by John Constable, and makes additional grants to support the training and professional development of curators.
Art Fund is independently funded, with the core of its income provided by 122,000 members who receive the National Art Pass and enjoy free entry to over 230 museums, galleries and historic places across the UK, as well as 50% off entry to major exhibitions. In addition to grant-giving, Art Fund's support for museums includes the annual Art Fund Prize for Museum of the Year (won by The Whitworth, Manchester, in 2015), a publications programme and a range of digital platforms.
About Omnia Art Ltd
Omnia Art Ltd are independent agents, not dealers, who advise private owners, their professional advisors, trustees and museums on the sale and purchase of fine and decorative art. They also handle all aspects of an art collection that do not pertain to a sale, such as loans, conservation, conditional exemptions, gifts, chattels rental negotiations and offers in lieu of tax. For further information: www.omniaart.com"
Further information
For further information contact Alison Dalby, Senior Press Officer, via email: Alison.dalby@nationaltrust.org.uk or on tel: 07824 418351 or Ken Smith National Trust Wales Press Office via email: Kenneth.smith@nationaltrust.org.uk or on tel: 07768 424 394.